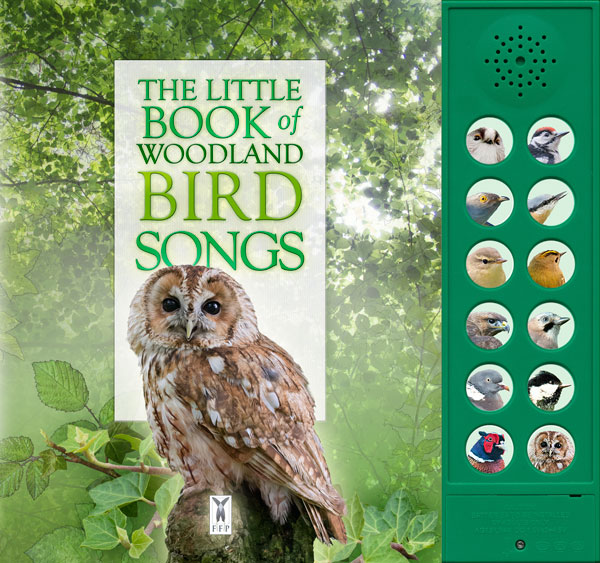 Birds can be hard to spot at the best of times and never more so than in the woods, so let this book and your ears do the work instead.
Once you learn to recognise these bird sounds – from the wistful song of the willow warbler to the comforting call of the woodpigeon – no walk in the woods will be the same again. This sequel to the bestselling Little Book of Garden Bird Songs is sure to become another family favourite.
Suitable for anyone aged 3 years and above
Order Now!
Endorsements
Beautiful book. My grandsons love learning about each birds habitat, their feeding habits, how many eggs they produce and what they look like.. They love listening to the clear realistic calls of each bird and being able to identify them outdoors. A faboulous book for both children and adults, highly recommended and very eductional. The garden bird song book is equally as good...worth buying both.!!!!
– Amazon
Excellent value - I actually bought it for my mother who is chair bound and has dementia so that she can activate it herself and listen to the birdsong.
– Amazon
My children and I absolutely adore this book (and the other book we have about garden birds). The sounds are so clear it's lovely to listen to. I know it says woodland birds but we are lucky enough to live in a quiet spot where we've had almost all of these birds in the garden so my son likes to take it outside, listen to the birds and try to match it up with the book. A great way to encourage more outdoors time. The pictures are lovely and clear with just a few simple facts appropriate for young children.
– Amazon
These are delightful sound books. The bird songs are clear and vibrant, to the extent that when I first tried them in the office, Rosalind, our designer, looked around to see where the robin had come in! At home, my children are really enjoying these books. We've tried to match what we are hearing outside with the birds in the book, and I found them testing each other on different bird songs. There is a colour photo and glossary of information for each bird, explaining things such as where they are found, what they eat and what eggs they lay. There are also illustrations of habitat and a description of each song to help identify them. If, like me, you like birds and are keen to try and learn their songs, this is a great way for you and your children to start, or to improve your knowledge.
– Juno Magazine
I do all I can to encourage my kids to play outside. I won't lie though, sometimes it can be difficult to coax them out of a nice, warm house and to enjoy a bracing, healthy walk. A couple of weeks back, however, I was sent a copy of The Little Book of Woodland Bird Songs. Published by the appropriately named Fine Feather Press, it has 12 recorded bird songs and basic information on each species. Would my children, especially the eldest, Helen, be tempted to venture outside and see if they could identify any of the birds? The short answer is yes, they were very keen, particularly Helen. I have to say, I am not a twitcher at all. I think it comes with being a country boy. What you grow up with and what surrounds you sometimes goes unnoticed. I've generally taken the approach that birds are, well, just all around you really! Using this book, however, was very interesting. It actually made me listen out for the different bird songs. There are a variety to listen out for including cuckoo, pheasant, buzzard and willow warbler, to name a few. Helen loved it. I mean she really, really enjoyed listening out for the birds and then reading about them. I think what helped is that we stumbled across a Nuthatch pretty much immediately.
– Dad Blog UK
My kids paid no attention to our garden bird feeder – until I gave them this book. It plays birdsong and is crammed with quirky facts. Now they fight to put out the seed!
– Sabah Wilson, Woodland Trust Magazine
The Woman's Weekly team all loved these fantastic books which not only explain all about the appearance, habitat and behaviour of garden and woodland birds respectively, but play their calls at the touch of a button on the side panels. Bus as they're intended for children, I thought it only right to test them out with the help of gorgeous twins, Jack and Dan. As you can see, they found them fascinating too!
– Woman's Weekly
A bird book with a difference, The Little Book of Woodland Bird Songs, £12.99, will teach your little ones not just to recognise the birds they see on country walks, but the ones they hear too. With the songs of British birds (long-tailed tit, great spotted woodpecker, cuckoo, nuthatch, willow warbler, goldcrest, buzzard, jay, wood pigeon, coal tit, pheasant and tawny owl) each at the touch of a button, it's a perfect present for tiny twitchers.
– The Sunday Mirror
This beautifully illustrated guide to 12 species is brought to life with touch-of-a-button birdsong. Predictably, my boys were more interested in the buttons than the simple introductions and factfiles, but loved testing each other (and me) at the end, adding the mew of a buzzard and the squeak of a great spotted woodpecker chick to the more familiar tawny hoot and woodpigeon coo.
– Sarah McPherson, BBC Wildlife Magazine
Take a well-put-together board book (don't worry about it being a board book - no one is going to say that they're a bit too old for a board book once they see it), add exquisite pictures of a dozen birds - one on each double-page spread - and then fill in the details. You'll need the name of the bird in English and Latin and a description of the bird in words which a child can understand but which won't patronise an adult. Then you'll need details of where the bird is found, what it eats, where it nests, how many eggs it lays, how the male and female adults differ and their size. Then you need a 'Did you know?' fact and this needs to be something which will interest children, but which adults might not know either. Does it sound simple? Well it isn't, but The Little Book of Woodland Bird Songs does it perfectly. And there's a bonus, but I'll tell you about that in a moment. The pictures are beautiful - they bring the birds to life and you can really see the details, from how the feathers lie and the shape of the beak through to how the claws grip a branch. There's a wide selection of birds too - the long-tailed tit, great spotted woodpecker, cuckoo, nuthatch, willow warbler, goldcrest,buzzard, jay, woodpigeon, coal tit, pheasant and tawny owl. It's a careful selection - in most parts of the country you're likely to encounter some if not all of the birds. The details are clear - you'll know where to look for each bird and sometimes that's an aid to identification. You'll recognise the eggs - but please restrict this to looking at the broken shells rather than into nests. But it's the 'Did You Know?' facts which I loved. Did you know that the domed nest which a long-tailed tit builds may take as long as three weeks to construct and is lined with around 1500 soft feathers? Or that jays bury nuts in the autumn and return to them when food is scarce in the winter? But I was going to tell you about the bonus, wasn't I? My great delight is being able to lie in bed of a morning and listen to birdsong - or to take a walk in the woods and just ''listen'' to the sounds around me. Well, to the right of the pages is a panel with pictures of all the birds in the book and when you press the picture you hear the bird's song and the quality is really excellent. We get a lot of wood pigeons coming into the garden and I could easily have believed that the sound was coming from the outside. The recordings are battery powered but don't worry about little fingers getting to the battery - you need one of those very small screwdrivers which you can never find when you need one to open the battery compartment. It just goes to prove that you are never too old for a board book - or a sound book for that matter.
– The Bookbag
I have been enjoying this board book, and its companion 'The Little Book of Garden Bird Songs', for the last few weeks. Each features 12 species which it covers with a short and engaging paragraph of introductory text, attractive photographs and some interesting facts. In addition, a panel of 12 buttons allows you to match the corresponding photograph and play the song or call of each species. While these books will be useful and interesting to adults who enjoy learning about birds and birdsong, they are also ideal for use with children. I have a three-year-old son and have been trying them out on him. The pages are made of thick card, so resist mauling, and there are various ways in which a child can engage, depending on their age and reading skills. My son seemed to quickly grasp that each species makes a distinctive sound and he's begun to learn the bird names and even some of their calls. With a little bit of creativity it would be straightforward to make a game to reinforce learning. In summary I'd warmly recommend these books as a learning aid for both adults and children. Mastering the 24 species that they introduce would be a giant first stride into the pleasure of bird song and would add another dimension of enjoyment to time in the countryside.
– Ben Darvill. British Trust for Ornithology Magazine
Other Books in "Sound Books"
Disclosure of Material Connection: Some of the links in the page above are "affiliate links." This means if you click on the link and purchase the item, I will receive an affiliate commission. I am disclosing this in accordance with the Federal Trade Commission's
16 CFR, Part 255
: "Guides Concerning the Use of Endorsements and Testimonials in Advertising."
Once you learn to recognise these bird sounds – from the wistful song of the willow warbler to the comforting call of the woodpigeon – no walk in the woods will be the same again. This sequel to the bestselling Little Book of Garden Bird Songs is sure to become another family favourite.
Suitable for anyone aged 3 years and above